In the early 1800's, Maliseet & Micmac Native Americans frequently traveled the area and early settlers established farms along the Aroostook River as early as 1820 which was the same time that Maine separated from Massachusetts to become a state.
Presque Isle was founded as "Fairbanks Mills" in 1828 when Dennis Fairbanks received a land grant from the State of Maine to establish a sawmill and gristmill.

In 1838, a dispute over the boundary between the United States and Canada erupted. Although the skirmish became known as "The Bloodless Aroostook War", soldiers had been sent to the area and some casualties have been attributed to the war. With the dispatch of Federal troops for the skirmish, came the development of the first roadway into Presque Isle in 1839. The boundary dispute was peacefully ended by the Webster-Ashburon Treaty in 1842.
The population grew significantly in the 1850's and on April 4, 1859 the township of "Presque Isle" was incorporated by the Maine legislature. The new name was derived from the French term "presqu'ile", meaning "almost an island", which referred to the geographic boundaries created by the Aroostook River and smaller brooks and streams which surround the community.
With the incorporation of the "Canadian Pacific Railway Company" in February 1881, came the construction of railways and the opportunity for development and expansion in Maine.
In 1883, the neighboring township of "Maysville" united with "Presque Isle" to define what would be chartered as the "City of Presque Isle" in 1939.
Potato crops were recognized as having great potential, however transportation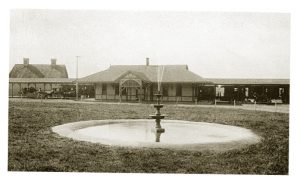 was a challenge. It wasn't until 1894 when the "Bangor & Aroostook Railroad" was constructed to create a direct shipping line between Presque Isle and the south. This shipping line made it possible for the starch and potato industry to flourish. The railroad also opened the area for development of industry. Some of the early industries included lumber mills, gristmills, wool carding mill, a furniture factory, a carriage factory and a tin wares factory. Presque Isle became the trade, shipping and tourist center of the Aroostook valley.
Other achievements of the 1800's included:
The North Aroostook and Horticultural Society was created in 1850 and held the first Northern Maine Fair in 1851. The Society is now known as the Northern Maine Fair Association.
The creation of a newspaper called "Aroostook Pioneer" in 1857
A school called the "Presque Isle Academy" opened in 1858