In the early 1900's, a group of pioneering small business entrepreneurs got together to raise funds by selling stock in enterprises which would benefit the entire community. In 1914, this group officially formed the "Presque Isle Merchants Association". In 1945, the association became the "Presque Isle Area Chamber of Commerce" and was renamed in 2014 "Central Aroostook Chamber of Commerce" to expand their coverage area to 14 communities in Aroostook County.
Some examples of some of the associations ventures:
In 1902, the St. John's Episcopal School for Boys and 5 acres of land was purchased for $2,500. They then offered the buildings and land to the State to establish the "Aroostook Normal School", which evolved into what is known today as the "University of Maine at Presque Isle".
In early 1930, a subcommittee was formed to explore the possibility of establishing air service to the area. Land was purchased on the Mapleton Road where a hangar and runway were constructed. The first commercial aviation service was started at the "Presque Isle Airport" by "Boston & Maine Airways" in 1933. The airport was purchased by the town in 1937 and was named as the "Northern Maine Regional Airport". Today it is known as the "Presque Isle International Airport" with daily non-stop flights to Newark Liberty International Airport (EWR) in Newark and Elizabeth, New Jersey (just outside of New York, New York); and Washington Dulles International Airport (IAD) in Dulles, Virginia (just outside of Washington DC).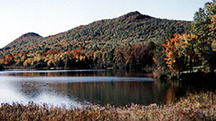 100 acres of land was purchased which included Quoggy Jo Mountain and Echo Lake. The land was donated to the State of Maine in 1938 and in 1939 "Aroostook State Park" was established as Maine's first State Park.  Today, as a result of subsequent donations and purchases, the park encompasses nearly 800 acres!