History - 1962 to Present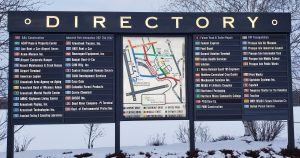 In 1962, the "Presque Isle Industrial Council" was successful in attracting two major businesses to locate on the Industrial Park. Today, the park is home to 50 plus businesses and organizations. In 1993, the employment on "Skyway Industrial Park" had expanded to 951 and today that has grown to well over 1,500!

In 1963, the State opened the "Northern Maine Vocational Technical Institute (NMVTI) " and "Maine School Administrative District #1 (MSAD#1)" opened the "Skyway Middle School" both which were constructed on the land acquired from the former Presque Isle Air Force Base. Today, "NMVTI" has developed into what is known as "Northern Maine Community College" and "Skyway Middle School" has expanded into the "Presque Isle Middle School".


Presque Isle has grown into the business, industrial, commercial, transportation and cultural center of Aroostook County. Nearly half of the County's population resides within a 25-mile radius. The City's shopping and entertainment attractions draw visitors from throughout the area and neighboring Canada.
A "Down-Home" lifestyle and quality community services are the hallmarks of Presque Isle. Safe streets, friendly merchants, progressive medical and educational services - all these exist in a city that has values of the past, energy for the present and an understanding of the future.
When opportunity knocked...
...Presque Isle's pioneering spirit answered and the rest is history. The characteristics of early pioneers who were ambitious and adventuresome helped make Presque Isle what it is today!